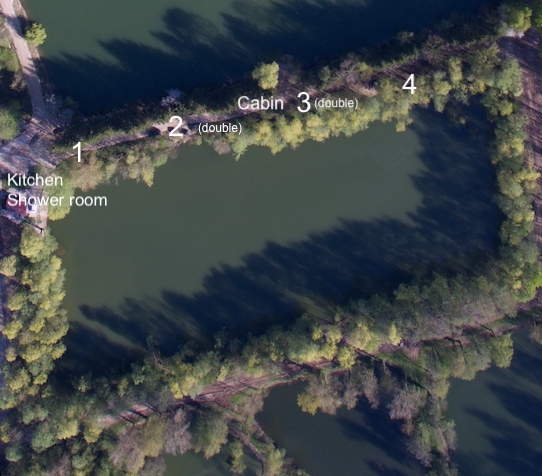 Lake Juvanzé has an impressive stock of carp with mirrors to 61lb and commons to 56lb and is suitable for anglers of all abilities. The swim layout makes the lake very sociable and is ideal for groups of mates that prefer to fish together on holiday! There's 4 swims all along one bank with the social cabin in the middle. The cabin has a TV, internet, kettle and drinks fridge. Lake Juvanzé is perfect for 4 anglers, although the two centre swims can be used as doubles with a maximum of 5 anglers. Lake Juvanzé also has a fully equipped kitchen, bbq and undercover eating area.
There's around a dozen carp over 50lb, several just shy of 50, many over 40lb and lots of upper 30s. 33 fish averaging 25lb were introduced in December 2017 and 18 fish were introduced in December 2019 including 5 over 50lbs.
Lake Juvanzé is a picturesque, mature willow-lined gravel pit covering around 5 acres. The banks are grassy and lined with overhanging trees. The lake bed is an exciting and challenging combination of gravel bars, plateaus, clay, silt and weed patches.
Prices : 2024 £1875, 2025/2026 £1975
Lake Size : 5 acres (Max of 5 anglers)
Prices : 2024 £1875, 2025/2026 £1975
Swims : 4 comfortable swims including 2 that can be used as doubles
Depth : 2ft – 6ft
Carp Stock : Large stock of mirrors to 61lb and commons to 56lb, around a dozen 50lb+ carp, several just shy of 50 and many 40s
Other Fish : Grass carp to 50lb, pike, perch, roach and tench
Lake Bed : Gravel, sand, silt and clay
Features : Beautiful tree lined lake, overhanging bushes, gravel bars, plateaus, weed patches and lily pads
Access : Track all round the fishery
Bait Boats Allowed : Yes – several available for hire
Cooking facilities : Available free of charge
Help available : Yes, English bailiffs with many years of carp fishing experience available to help you if needed
There's a social cabin between the 4 swims which has a picnic bench, kettle, drinks fridge, electricity for charging batteries and English TV. Free Wifi internet access is available at the cabin.
At the top of the lake there's a kitchen, sheltered seating area with a table and chairs and a BBQ, spotless shower and toilet facilities and UK plug sockets for charging batteries*. The kitchen is fully equipped and has a fridge freezer, gas cooker and microwave. We offer this free of charge and ask that in return you leave it clean and tidy at the end of your stay.
Please remember to bring fresh water for drinking and cooking, tea towels, charcoal and lighters and bbq grill tools.
Juvanzé Lakes provide each angler with an unhooking mat and weigh tripod. Just bring your own landing net (minimum 42") and XL flotation weigh sling (minimum 130cm). Weigh slings are available to rent if needed for 8 euros a week.
* We produce our own power which is fine for charging phones and boat batteries only, so isn't suitable for anything high voltage. No camping fridges.